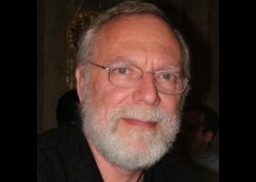 In Memoriam
Professor Sérgio Santos Mühlen 
(1956 – 2020)
CORAL Vice President 2017-2020
CORAL President 2020
Professor Sérgio S. Mühlen, president of IFMBE's Latin American Council for Biomedical Engineering (CORAL), passed away suddenly on June 27, 2020. He is survived by his loving wife Renata Guimarães, son Luis Sérgio Mühlen and grandsons Thomas and Benjamin.
Professor Mühlen was elected vice-president of CORAL for the term 2017-2020 and became its president early this year. Previously, he held several leadership positions with the Brazilian Society of Biomedical Engineering (SBEB), culminating with its presidency in 2015-2016. Through these roles, he contributed significantly to the advancement of biomedical engineering in Brazil and Latin America.
Professor Mühlen earned electrical engineers and master's degrees at the State University of Campinas (UNICAMP), Brazil, and Doctorat-ès-Sciences degree from the National Polytechnique Institute of Lorraine, France. He also completed post-doctoral training at the McGill University, Canada, and at the École Centrale de Lyon, France. He also earned certification as a clinical engineer (CCE) from the International Certification Committee.
Since 1990, Professor Mühlen was employed at the State University of Campinas (UNICAMP) in the Biomedical Engineering department of the School of Electrical Engineering and Computing. His research interests were in the areas of biomedical instrumentation, power ultrasound, clinical engineering, healthcare risk and resource management, electromagnetic interference, and biological effects of radiation. He also served as the director of the UNICAMP's Center for Biomedical Engineering (CEB) which is a multidisciplinary center for biomedical engineering research, medical physics, and clinical engineering services provider for the university hospital. Although he retired officially in 2017, he continued to teach occasionally and was an active participant in many professional activities in Brazil and worldwide.
Professor Mühlen was considered an excellent teacher, having helped to educate a very large number of biomedical and clinical engineers in various segments of the healthcare industry in Brazil and Latin America. Having served as teacher, researcher, and clinical engineering service provider, he understood well the need to be inclusive to all the different segments of biomedical engineering. His warm personal style and collaborative approach endeared him to professionals of all these different segments. He will be sorely missed by former students all over Latin America and his colleagues and friends worldwide.
---
Remembrances from IFMBE & IUPESM for Professor Sérgio Santos Mühlen 
Our hearts are saddened when we received the news about the passing of our dear friend Professor Sérgio Santos Mühlen on June 27, 2020. He was the President of the Regional Council of Biomedical Engineering for Latin America (CORAL) and an illustrious representative for the region. He had taken active leadership positions in CORAL for several years. He was in the process of organizing CORAL Congress 2022 in Santa Catarina, Brazil. Over the past thirty years, Professor Mühlen has made significant contributions by taking key roles in the Brazilian Society of Biomedical Engineering (SBEB). He served as the President of SBEB from 2015-2016.
Professor Muhlen was a distinguished professor from the University of Campinas (Brazil). He was mild-mannered, pleasant, and devoted to the Biomedical Engineering field. He was a valuable mentor and revered guide to large clusters of Biomedical Engineering students in Brazil. He collaborated on numerous educational and research projects with academics in many Latin American countries. He was always warm and sincere and was highly respected by his peers.
This is a great loss to the Biomedical Engineering community not only in Latin America (CORAL), but also to all our colleagues from the International Federation for Medical and Biological Engineering (IFMBE) throughout the world. While we will truly miss Professor Mühlen, we will always cherish our fond memories of delightful interactions with him over the years.
On behalf of IFMBE, I wish to express our heart-felt condolences to Professor Mühlen's family and friends.
Prof. Shankar Krishnan
President, IFMBE
---
Prof. Dr. Sérgio Mühlen was a senior biomedical engineer and also a clinical engineer. He was very enthusiastic, kind, and easy-going. He devoted a lot of professional expertise to the clinical engineering of Central and South America and provided enormous support and services to the International Federation/Organizations. I enjoyed working together with him at IFMBE. I regret that we lost a great friend with my sincere condolence.
Kang-Ping Lin
IFMBE Secretary General
---
How difficult it is to say goodbye to a great friend. It would be unfair to mention all his contributions and forget some of them. All his teachings, leadership, and dedication to making biomedical engineering a better profession will continue in all of us, especially all the Latin American family.
Elliot Vernet
Vice-President, CORAL
---
The sudden passing of colleague and friend Sergio S. Mühlen is an event that saddens the entire Latin American biomedical engineering community. He was serving as president of the Regional Council for Biomedical Engineering for Latin America (CORAL), so we had regular contact to discuss issues related to the growth and consolidation of biomedical engineering in the region. Personally, I consider Sergio as a good man, kind, conciliatory, educated and very professional. On behalf of the Argentine Bioengineering Society (SABI) we remember him with great affection, and we send our deepest condolences to his family as well as to all the Brazilian colleagues.
Rubén Acevedo
President, SABI
---
Sergio was not only an outstanding professor-researcher at the University of Campinas, who came to represent the Brazilian Society for Biomedical Engineering (SBEB), but also a true friend of the Mexican Society for Biomedical Engineering (SOMIB) and Mexico.
My condolences to Sergio's family, his friends and all the Brazilian colleagues.
May the great friend Sergio Mühlen rest in peace.
Herberth Bravo
President, SOMIB
---
I am very sad because my friend Prof. Sérgio Santos Mühlen's passing. I met Sergio at the CLAIB2011 Conference in La Havana. Since then, we became friends and met on numerous occasions. I had the honor of working with Sergio when he accompanied me as vice president at CORAL. He contributed to the strengthening and consolidation of Biomedical Engineering in Brazil and Latin America. Sergio was also a kind and affable man and he was friend of all Latin-American biomedical engineering community. I send my sincere condolences to his family and colleagues. I will miss him.
Eric Laciar Leber
Immediate Past President, CORAL
---
I had the privilege of guiding Prof. Sérgio Mühlen early in his career, serving as his master's thesis advisor and nominating him for a faculty position at UNICAMP. Some of my colleagues were surprised that I was willing to accept him as graduate student, as he had the reputation of being a rebel and troublemaker during his undergraduate years. However, I perceived him to be a curious and independent person who wanted to understand why he was asked to do certain things, instead of just following tradition and recipes. These characteristics served him well later in his career as an academic and director of the Center for Biomedical Engineering (which I had founded previously to conduct research and provide clinical engineering services to the university hospital). He matured into a very dedicated teacher, gregarious and open-minded professional leader and, above all, a loyal friend. I last met him in person at the Latin American Biomedical Engineering Conference held in Mexico last year. We had several long chats and a wonderful dinner with him and his lovely wife Renata. I will cherish those moments and miss him tremendously.
Binseng Wang
Founder and Past Director CEB/UNICAMP
Past president, SBEB (1983-1985)
---

Prof. Sérgio Mühlen was an Honorary Member, Secretary (1991-1992), Vice-President (2013-2014, 2017-2019) and President (2015-2016) of the Brazilian Society of Biomedical Engineering (SBEB). He was also Vice President of the Regional Council of Biomedical Engineering for Latin America (CORAL) from 2017 to 2019, having also assumed the presidency of this Council in 2020. Sérgio was a recognized professor and researcher at the University of Campina (Brazil), and an extraordinary friend of the entire Latin American community.
Adriano Andrade
Vice-President, SBEB
---
The past, the present and the future are in mourning, for the departure of a human being as important as Sergio. Biomedical engineering community come together in a single thought of sadness and appreciation for their great work in Latin American biomedical engineering.
ABIOIN represents the community that met him at the different events and expresses to his beloved family an immense condolence for this hard experience of profound absence.
Isnardo Torres Rivera
President, ABIOIN
---
I met Sérgio at ABEClin and SBEB events. He was one of the founders of ABEClin and had been always a supporter of Clinical and Biomedical Engineering in Brazil. He always fought for the integration among the professionals and societies. He enjoyed a good wine, making friends, and traveling. I will miss his charismatic personality and readiness for a great conversation.
We last met at the SABI2020 congress, where he did not meet with colleagues, but with FRIENDS. He had a dream of increasing the integration between biomedical and clinical engineers in Latin America. The biggest honor to Sérgio is for us to continue working together and make his dream a reality!
An Excellent professional, a great friend, and the eager to a solid unification. He will be missed by all of us who know the vast list of his accomplishments and the many seeds he sowed.
Alexandre Ferreli
President, ABEClin
---
I am deeply sorry about the loss of Sergio.
I knew him for many years, and he was one of the people worth admiring in the field of Latin American Biomedical Engineering, not only for his career, but also for his love and kindness.
Rest in peace.
Alvaro Rios Poveda
Colleague and friend
---
We will miss you! Sérgio was a colleague and friend, highly competent. We were very close during my time as superintendent of the German Hospital Oswaldo Cruz, when we exchanged many experiences and learnings. Sérgio was very collaborative for our profession and left us with an important legacy: Integrity and competence with great sympathy and generosity.
My condolences to his family and all our mutual friends.
Paulo S. Palombo Camargo
Colleague and friend/Brazil
---