February 1948 –  July 2017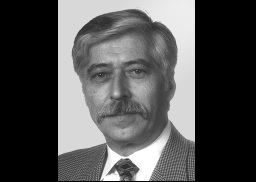 In Memoriam
Prof. Dr. ret. nat. Joachim H. Nagel
IFMBE President 2003 – 2006
IUPESM President 2006 – 2009
I met Prof. Nagel more than 20 years ago at one of the Mediterranean Conferences in Biomedical Engineering, when Joachim was already an established researcher and well known scientist, and I was entering the arena of BME research. Shortly after that event, Joachim invited me to start collaborating within the frame of the Int'l Federation for Medical and Biological Engineering. One of the first projects we realized was the IFMBE's Mediterranean Conference which was held in Pula, in Croatia in 2001. At that time, Joachim was already the President-Elect of the IFMBE and I was enjoying listening to his ideas and plans for the future development of the Federation, involving the young generation of researchers into BME and increasing the visibility of the profession. We were usually sitting on a terrace of a small restaurant on the shore in the bay, after the presentations at the Conference and all meetings were finished, looking at the yachts at the anchorage in the marina, letting the breeze bring us refreshment and new, fresh ideas. We continued to collaborate on numerous different IFMBE and later IUPESM projects, until and after Joachim's retirement, until a few months ago when Joachim withdraw into private life due to health reasons. During all those years, Prof. Nagel has been the leading person or has been actively involved in different initiatives, which resulted in increasing of visibility and importance of biomedical engineers and medical physicists in medicine and health as well as in large number of benefits for IUPESM and IFMBE affiliated societies and individuals.
Joachim Nagel received his Diploma in Physics from the University of the Saarland, Germany, in 1974 and his D.Sc. in Medical Engineering Physics from the University of Erlangen-Nuremberg, Germany, in 1979. Following appointments in industry and as a faculty member at the Department of Biomedical Engineering of the University of Erlangen-Nuremberg, he joined the University of Miami, Florida, USA, in 1986, where he served as a Professor of Biomedical Engineering (1986-96), Professor of Radiology (1990-96), and Professor of Psychophysiology (1988-96), Director of the Medical Imaging & Instrumentation Lab (1986-1996), and Director of Biomedical Engineering at the Behavioral Medicine Research Center (1986-1996). In 1996, he accepted the position as Professor of Biomedical Engineering and at the same time the Director of the Department of Biomedical Engineering at the University of Stuttgart with appointments as Adjunct Professor of Biomedical Engineering and Radiology at the University of Miami. He was the leader of several International Associations: he served as the President of the International Union for Physical and Engineering Sciences in Medicine (IUPESM) and the President of the International Federation for Medical and Biological Engineering (IFMBE). He was a member of the Scientific Council of the International Centre for Biocybernetics of the Polish Academy of Science, a Fellow of the Institute of Physics (IOP), a Fellow of the International Academy of Medical and Biological Engineering (IAMBE), a Fellow of the American Institute of Medical and Biological Engineering (AIMBE), Founding Fellow der European Alliance for Medical and Biological Engineering and Sciences (EAMBES) and an Academician Member of the UNESCO/UATI World Academy of Biomedical Technologies. He has served on the IEEE/EMBS Administrative Committee as a European and as a US representative, and he was a member of the IEEE Engineering Research & Development Committee (Technology Policy Council). He was an honorary member of the Czech Society for Biomedical Engineering and Medical Informatics of the Czech Medical Association of J. E. Purkyně.
In 2012, Prof. Nagel was honored Honorary Life Membership of International Federation for Medical and Biological Engineering (IFMBE). Also in 2012, he was awarded the IUPESM Award of Merit for his "Outstanding Achievements in Physical & Engineering Sciences in Medicine".
Joachim Nagel was an editor of the IOPP Book Series in Medical Physics and Biomedical Engineering and the IFMBE Book Series in Biomedical Engineering, he has served as an Editor for the BMES journal Annals of Biomedical Engineering (1989-94), the IOPP journal Physiological Measurement (1994-98), and he was a member of numerous Editorial and Review Boards. He served as a consultant to NIH, NHLBI, the Scientists' Institute for Public Information, the American Cancer Society – ACS/NASA Subcommittee, and numerous companies. He has been funded by NIH and the DFG, and he has taken part in EU-funded projects.
His main research interests were in the fields of cardiovascular monitoring, instrumentation and physiology, medical image acquisition and image processing, physiological signals, MEMS, and biological effects as well as therapeutic applications of ultrasound. He has published more than 200 scientific papers, books, book chapters, patents, and conference papers.
Joachim Nagel was the coordinator of the European project BIOMEDEA (Biomedical Engineering Preparing for the European Higher Education Area). The objective of the project was to develop and establish consensus on European guidelines for the harmonization of high quality MBES programs, their accreditation and for certification and continuing education of professionals working within the health care systems.
Prof. Nagel's contributions to biomedical engineering and medical physics are numerous and it is very difficult to mention them all.
IUPESM Health Technology and Training Task Group
Together with Prof. Barry Allen, Prof. Joachim Nagel established the IOMP/IFMBE Task Group for Health Technology and Training in Developing Countries later called "Health Technology and Training Task Group". They started to develop policies and a program in accordance with WHO approaches, involving WHO and the governments and health care systems of the countries
with which IFMBE and IOMP are cooperating. Such a program is a milestone in developing healthcare around the world, especially in developing countries.
Collaboration with WHO
Prof. Nagel has considerably increased the cooperation of IUPESM and IFMBE with WHO. As the president of the IFMBE he has participated in WHO General Assemblies in Geneva during his term of office and continued to represent the IFMBE at general assemblies also after 2006.
It is Prof. Nagel's achievement that IFMBE is included into the WHO's World Alliance for Patient Safety.
Other NGO activities
Prof. Nagel re-established IFMBE's status of an NGO at United Nations and included IFMBE into the initiative "Information Society of the UN". Prof. Nagel also initiated the cooperation of IFMBE with international standardization organizations (ISO, IEC and ITU). IFMBE has meanwhile been accepted as member of the World Standards Cooperation.
Publications
Prof. Nagel recognized the value of IFMBE publications, mainly its Journal MBEC and its potentials. Therefore, he was leading negotiations with the most significant publishers in the field of biomedical engineering and together with other members of the Journal Committee decided to sign a contract with a new publisher, Springer. He achieved three major successes for the IFMBE:

Dramatical increase of distribution and circulation as well as of the Journal's volume which brought to a significant increase in visibility of biomedical engineering and IFMBE.
Excellent services for IFMBE members (each of 120.000 individuals from the IFMBE affiliated societies) who can free of charge access electronic copies of Federation's Journal MBEC and another three BME journals published by Springer. In addition, IFMBE conference proceedings from the IFMBE proceedings series and the IFMBE newsletter can be accessed under the same conditions. Up to my knowledge, this is a unique service in biomedical engineering community.
In addition to the above-mentioned achievements, the income from the Journal has significantly increased, enabling the Federation to start new projects, programs and initiatives.
Education
Prof. Nagel was working actively in biomedical engineering and medical physics education not only as a university professor and Head of the BME department, but he also initiated a series of workshops on biomedical engineering and founded a European project BIOMEDEA in 2004. The BIOMEDEA project gathered BME societies and BME university programs. This initiative resulted in a number of documents (criteria, guidelines and protocols) for harmonization and accreditation of biomedical engineering and science programs. The project has also dealt with training, certification and continuing education of biomedical and clinical engineers working with the healthcare system.
During the realization of this project it became evident that this project is interesting not only for Europe but also for the BME community worldwide, so that at the III BIOMEDEA meeting,
representatives from all over the world were present. The success of the BIOMEDEA project encouraged Prof. Nagel to continue it with that activity with a strong support of the IFMBE which incorporated many of the BIOMEDEA policy statements into policy IFMBE policies.
Conferences
Prof. Nagel has found it his professional obligation to attend and to communicate with IFMBE members at all possible levels and in all regions. Such an open and friendly approach resulted in the increase of applications for IFMBE co-sponsorship and endorsement of worldwide BME conferences. Prof. Nagel continued this policy also as IUPESM president.
Positions held in IUPESM
IUPESM President, 2006-2009
Member of Congress Coordinating Committee
Nominating Committee
ICSU Liaison Committee
Member of the Administrative Council of IUPESM
Positions held in IFMBE
Member of the Administrative Council since 1997
President-Elect and Vice-President, 2000-2003
President, 2003-2006
Immediate Past President, 2006-2009
Chairman of the Federation Journal Committee, 2004 -2007
Chairman of the Publications and Publicity Committee, 2000 -2007
Chairman of the Awards Committee, 2000-2003
Co-Chairman of the Awards Committee, 2003-2006
Member of the Education and Accreditation Committee
Member of the WHO Committee
Member of the EAMBES Executive Board, 2003-2004
Editor of the IOPP/IFMBE/IOMP book series since 2002-2006
Editor of Springer biomedical engineering book series
Co-Founder and Coordinator IFMBE Proceedings Series 2001-2006
Co-editor of IFMBE Proceedings Series
Prof. Nagel has also held a number of positions in many other learned societies and organizations. Prof. Nagel is a distinguished scientist who contributed to biomedical engineering and science and published a large number of scientific publications.
I have never met any person, scientist or engineer, who has been as much engaged and as much successful in representing interests and achieving aims of a scientific organizations in biomedical engineering as Prof. Nagel. In many years of his work, Joachim earned many friends and admirers, and he also changed many people's lives for the better. I am honored to have been among them.
Ratko Magjarević