Clinical Engineering Division
CED Vision Statement:
To become an international forum for developing and promoting of the clinical engineering profession resulting in improvement of global healthcare delivery through the advancement of safe and effective innovation, management and deployment of healthcare technology.
The IFMBE is the only international professional federation that has a Clinical Engineering Division focusing specifically on the life cycle management of healthcare technology and embracing all those who professionally practice in the clinical engineering field, whether in academic institutions, health care facilities, industry, business, voluntary sector, or government.
CED Mission Statement:
To advance worldwide learning, research, knowledge, deployment and communication of healthcare technology management within the clinical engineering community and its understanding by other stake holders.
To promote global communication, networking, and understanding of challenges related to healthcare technology management.
To define and promote an international body of knowledge, skills and competences on which the profession of clinical engineering can be practiced in various clinical setting.
To advance and disseminate worldwide safety tools and effective decision-making processes within the healthcare technology management system.
To define and promote quality standards in clinical engineering practices worldwide.
To stimulate innovation and efficient use of technology-related resources in healthcare worldwide.
To internationally represent and advocate the interests of the profession of clinical engineers and their global exchange.
To encourage, through education and training, clinical engineering practices and processes worldwide.
Over the past couple of years, the CED Awards Committee initiated and refined this unique clinical engineering recognition program.
There are three categories for the recognition program: Individual contribution, Team contribution, and Best Published Paper.
Please visit the CED Awards webpage for more details.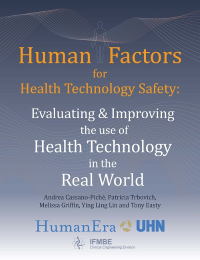 Chair:
Fabiola MARTINEZ
Members:
Stefano BERGAMASCO
Leandro PECCHIA
Almir BADNJEVIC
Keiko FUKUTA
Rossana Rivas TARAZONA
Brian KEARNEY
Ashenafi Hussein ABABU
Chair:
Tom JUDD, Chair (USA, 2018-2021)
Members:
Stefano BERGAMASCO, Secretary (Italy, 2018-2024)
Leandro PECCHIA, Treasurer (UK, 2018-2024)
Fabiola MARTINEZ, Elected Member (Mexico, 2018-2024)
Almir BADNJEVIC, Elected Member (Bosnia & Herzegovina, 2018-2024)
Paolo LAGO, Elected Member (Italy, 2015-2021)
Mladen POLUTA, Elected Member (South Africa, 2015-2021)
Yadin DAVID, Coopted Member (USA, 2018-2021)
James WEAR, Coopted Member (USA, 2018-2021)
Li BIN, proposed Coopted Member (China, 2018-2021)
Saide Jorge CALIL, proposed Coopted Member (Brasil, 2018-2021)
Kallirroi STAVRIANOU, Secretariat
CED Collaborators:
Nicholas Adjabu (Ghana, DOH)
Phillip Anyango (Kenya, AMEK)
Sam Byamukama (Uganda, UNAMHE)
Hussein Ashenafi (Ethiopia, MOH)
Mohammad Ameel (MOHFW, India)
Roberto Ayala (Mexico, CENETEC)
Abdul Basit (UK, NHS)
Paula Berrio (Colombia, COLCINC)
Zhivko Bliznakov (Bulgaria)
Mario Castaneda (USA)
Anthony Chan (Canada)
Michael Cheng (Canada)
Dan Clark (UK, NHS)
Tobey Clark (USA, Health Technology Foundation)
Bruce Compton (USA, CHA)
Anthony Easty (Canada)
Riad Farah (Lebanon)
Giuseppe Fico (Spain)
Monique Frize (Canada, IFMBE)
Keiko Fukuta (Japan, JACE)
Pedro Galvin (Paraguay)
Beatriz Galeano (Colombia, COLCINC)
Andrea Garcia (Colombia, COLCINC)
Bill Gentles (Canada, CMBES, INFRATECH)
German Giles (Argentina/USA)
Steve Grimes (USA, e-Health-ICT)
Antonio Hernandez (USA)
Fred Hosea (US, Ecuador, Geneva)
Ernesto Iadanza (Italy, HTA Division)
Hiro Igeta (Japan, JACE)
Gabriela Jimenez (Mexico, MSF)
Tadayuki Kawasaki (Japan, JACE)
Baset Khalaf (South Africa)
Niranjan Khambete (India)
Zheng Kun (China, CCCE)
Marcelo Lencina (Argentina)
Damas Magesa (Tanzania)
Mario Medvedec (Croatia)
Shauna Mullally (Canada, NWT)
Frank Painter (USA)
Nils-Erik Pettersson (Sweden)
Ledina Picari (Albania, MOH)
Adrian Richards (Australia)
Rossana Rivas (Peru, CENGETS)
Mario F. Secca, IFMBE AC, Developing Country Work Group Chair (Portugal-Mozambique)
Jitendar Sharma (India, India)
Ricardo Silva (Venezuela/Ecuador/USA, e-Health-ICT)
Stanley Siu (Hong Kong)
Elliot Sloane (USA, eHealth-ICT)
Costica Uwitonze (Rwanda)
Adriana Velazquez (Switzerland/Mexico, WHO)
Ale Velez (Mexico, WHO)
Jun Yoshioka (Japan, JACE)
Ewa Zalewska (Poland)
Martha Zequera (Colombia, IFMBE)
Hanzhong Zhang (China/USA, CMD)
Chair:
Ernesto IADANZA (Italy, 2012-2018)
Members:
Tom JUDD, Secretary (USA, 2015-2021)
Mladen POLUTA, Treasurer (South Africa, 2015-2021)
Saide CALIL, Elected Member (Brasil, 2012-2018)
Tony EASTY, Elected Member (Canada, 2012-2018)
Paolo LAGO, Elected Member (Italy, 2015-2021)
Ewa ZALEWSKA, Elected Member (Poland, 2012-2018)
Yadin DAVID, Coopted Member (USA, 2015-2018)
James WEAR, Coopted Member (USA, 2015-2018)
CED Collaborators:
Niranjan KHAMBETE (India)
Zhivko BLIZNAKOV (Bulgaria)
Fred HOSEA (USA)
Elected Members:
Saide Jorge CALIL – Chairman (Brazil,2012-2018)
Ernesto IADANZA – Secretary (Italy, 2012-2018)
Ewa ZALEWSKA (Poland, 2012-2018)
Tony EASTY (Canada, 2012-2018)
Yadin DAVID (USA, 2009-2015)
Mario MEDVEDEC (Croatia, 2009-2015)
Nils PETTERSEN (Sweden, 2009-2015)
Co-opted members:
James WEAR – USA
Dan ZHOU – China
CED Collaborators:
Albert POON – Hong Kong
Antonio GIBERTONI – Brazil
Antonio HERNANDEZ – USA
Niranjan KHAMBETE – India
Fred HOSEA – USA
Paolo LAGO – Italy
Shauna MULLALLY – Canada